The Ghost apparently has a severe hatred for glass.
2016 has been a terrible year all around for everyone. Donald Trump was elected president of the United States. That alone would be enough to relegate 2016 to the worst year of all time, but instead, we also got Brexit and the death of countless beloved celebrities, the latest of which, George Michael, died on Christmas day. In my personal life I went through the worst breakup of my life, and got forced out of my apartment because my landlord was a greedy asshole and wanted to make it a condo. I also came out as transgender to most people in my life (you can call me Julie now) which is mostly a positive, but has also come with a whole host of new terrifying experiences and constant fears about the future. So why has 2016 been such a shit year? Well, to paraphrase Mels, because the Doctor wasn't there to stop it.
Within the context of the show, the Doctor's been gone 24 years spending his final years with his wife, River Song. In the real world, the Doctor's been gone for one year so the production team could focus on a spin-off that, while excellent, has been poorly advertised in the UK and was given little international distribution to start off with. We did see a commercial for
Class
during the BBC America broadcast of this special, so thankfully it will finally be coming here. Since I've already seen it through "creative" means, I've got a post about
Class
that I'll but putting up soon. Regardless, it's been far too long since we've seen the Doctor, and it felt great to finally see him again, even if the episode was good, not great.
Rather than introducing the new companion, Bill, who everyone is excited to meet, instead we're treated to a second dose of the annoying Nardole, played by unfunny racist Matt Lucas, pictured here in the role that somehow failed to end his career:
How often do you think Matt Lucas says the n-word in private
Nardole is a big, puss-filled blemish on the episode that needs to be popped. He does nothing but bumble around and add his obnoxiously dopey voice where you don't need it. Nardole returns because the Doctor put him back together form inside Hydroflax, which Nardole thinks was because the Doctor couldn't handle being alone without River. I'd like to think that the Doctor put together the other guy who was trapped in Hydroflax, otherwise that would just be a dick move on his part. The preview for the coming season at the end of the episode (the first we've gotten at the end of a Christmas special since "A Christmas Carol") we saw that Nardole is going to be in the coming season as a second companion alongside Bill. Here's hoping his neck gets snapped by a Weeping Angel.
We start off with the Doctor setting up a machine to fix time distortions in New York that he says are his fault. I presume he's referring to the ones created in "The Angels Take Manhattan," but that episode suggested that the time distortions only existed in the specific year they were created. The beginning of this episode, presumably, takes place sometime in the 1990's, so I don't know why they're still there. Oh, and the Doctor is absolutely to blame for turning Grant into The Ghost. I'm pretty sure anyone would assume they were being handed a pill to take.
You can take the red pill or the blue pi--Oh my god, you actually took it? That was a metaphor! Cough it up!
The episode works because it acts as a direct sequel to "The Husbands of River Song," and tackles the Doctor''s grief for River Song head-on, rather than ignoring it. The unspoken subtext is that he lost River right after losing Clara (it may have been 24 years, but what's 24 years when you're literally billions of years old) and so he's trying to strike out on his own for the first time in a while, battling through some severe loneliness and loss.
The love story between Grant and Lucy was cute, if a tad predictable. I liked the foreshadowing at the beginning of the episode where the Doctor points out the obvious secret identity of Superman in the comic book, and comments that Lois Lane somehow can't figure it out despite being a reporter. Then Lucy finds herself unable to determine the equally obvious secret identity of The Ghost. I also liked that Grant resists the x-ray vision in puberty instead of rapeily embracing it.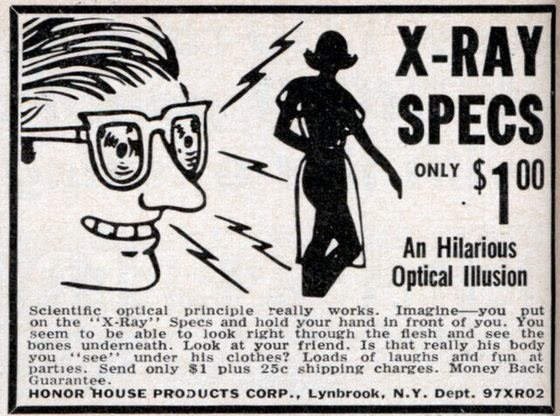 "Oh my God, I can't see boobs!" - Every straight teenage boy after trying X-Ray specs
I was disappointed at how un-Christmassy this Christmas special was. In the UK, most shows get a Christmas special, as they don't air from fall to spring like American network shows. Most UK shows work the way that American cable and streaming shows work: a new season is produced whenever they can get everyone together, so there's a good chance their season won't run through Christmastime. So most shows are given a Christmas special, but not all of them are actually about Christmas. I've never understood that. You'll notice if you watch, say,
Downton Abbey
, that some of the Christmas specials take place on Christmas, while others just depict a special day for the characters. Why on Earth would you make a Christmas special that doesn't take place on Christmas? I've seen Steven Moffat, in interviews, share my view on this, and insist that Christmas specials should be Christmassy, which is why I was surprised that, with the exception of one brief Christmas reference at the beginning of the episode, I wasn't even sure that the rest of the episode was actually supposed to take place at Christmastime.
You'll notice that the villains in this episode are the same as the ones as the Hydroflax worshipers from "The Husbands of River Song" and that Harmony Shoal vowed revenge at the end of the episode. While the
Invasion of the Body Snatchers
style plot of this episode isn't that original, I got the feeling that this is just the beginning and that Moffat is setting up this species to come back for his final season as head writer.
While the preview for the coming season did feature Captain Blackface, it also looked like an exciting season and I'm looking forward to it. I'm not looking forward to saying goodbye to Steven Moffat, but after Season 9 was the best he's ever given us, I'm excited to see what he does with Season 10. So Merry Belated Christmas everybody! Here's to a better year than the one we're leaving behind.